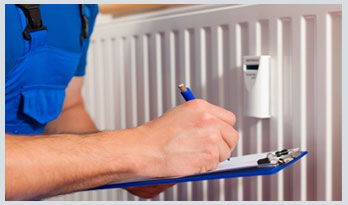 A build up of corrosion in your system can create a sludge that really affects the efficiency of your boiler. This one-off deep clean makes sure your radiators heat up properly and there are no more cold spots. This helps to increase the life of the whole system, keeps heating bills down and reduces the risk of breakdowns.
The solution – Powerflush and corrosion inhibitor.
Power flush equipment, normally set up outside, connects to your central heating and cleans the whole system without having to take off all the radiators.
Powerflush cleaner is added to the system water and starts to loosen the rust. The heating is turned on and radiator surfaces checked for cold spots. By flushing water through individual radiators and vibrating cold spots the sludge is rapidly loosened. The sludge flows from radiators and is collected at our magnet filter.
All radiators and pipe work are power flushed until water samples are clean and pH neutral.
A corrosion inhibitor is added to the clean water, radiators are balanced as required and finally we issue you a Powerflush certificate.
Our professional and friendly engineers will thoroughly powerflush your central heating system guaranteeing you a warmer home, improved hot water and reduced fuel bills by up to 50%
We guarantee the highest standards of work from one of our fully qualified and experienced plumbers who can carry out all your plumbing installations and repairs to the highest quality for your domestic convenience.
Magnetic system filters
This is another way to increase the life and efficiency of your central heating system. It's a simple unit that traps any dirt, debris and sludge that's created before it can do any damage to your boiler and controls.
It's easy to install and will keep your system running at maximum efficiency. Maintenance is simple; it just needs a clean when you have your annual boiler service.
Key features:
It's quick and easy to install, it's fitted to a pipe close to the boiler.
It should last for the lifetime of your boiler.
For an Instant FREE Powerflush Quote Call 07941509951 or 01619622235. Or send us a message using the contact form